For over 20 years ICorr has been providing training courses and competence assessment for Cathodic Protection Technicians. The early course, only for Buried applications, (buried onshore pipelines and tanks), was written for ICorr by John Thirkettle, and for may years presented by him and Chris Lynch through ICorr's training partner, Argyll Ruane. During this time British Gas, later National Grid, offered parallel training in courses developed by John O'Shea (Past ICorr President) and John Dyson.
In 2006, BS EN 15257, in which ICorr participated in the preparation, provided a standardised framework and levels of competence for CP personnel throughout Europe, bringing together the strengths of disparate national schemes in UK, France and Italy. This Standard defined the competence requirements for CP Technician, Senior Technician and Design Engineer levels in the Buried, Marine, Steel in Concrete and Internal application sectors. At the time of its implementation ICorr significantly improved the "Buried sector" courses and, in conjunction with the Corrosion Prevention Association (CPA), developed the Steel in Concrete courses. In 2015 ICorr also introduced courses in Marine CP.
In 2017, the International Standard, BS EN ISO 15257 'Cathodic protection – Competence levels of cathodic protection persons – Basis for certification scheme' was published. This Standard established equivalence between CP Competence Certification worldwide, including the transitional equivalence between the many European schemes complying with EN 15257, the Australian scheme and the NACE scheme from the USA.
This new ISO Standard established international requirements for Training, Examination, Experience Assessment and Competence Certification for FIVE levels of competence in the same four Sectors as the EN 15257.
Since the publication of the new Standard, ICorr has been working to both restructure its procedures and courses to meet these new internationally recognised requirements, and also to further improve the quality and professionalism of the ICorr CP courses and their delivery. These improvements are now being rolled out initially in the UK, but then, through the international partnership with IMechE, overseas. The major changes to the ICorr CP Training and Certification Scheme are summarised below:
• New Level 1 CP Data Collector (or Tester) Level (equivalent to the NACE CP 1, a level not previously within the EN 15257), typically intended for asset owner company staff who need to collect accurate CP data as only part of their weekly activity. ICorr are about to start ISO 15257 Level 1 Buried CP courses closely tailored to the needs of National Grid and the various gas distribution companies, leading to Certification of Competence to ISO 15257, viz.
• New ISO Level 2 CP Technician courses; these are to the equivalent level as the old EN Level 1 courses, but with improved courses, training and assessment, leading to Certification.
• New ISO Level 3 Senior CP Technician courses; these are to the equivalent level as the old EN Level 2 courses, but with improved courses, training and assessment, leading to Certification.
• New ISO Level 4 CP Specialist; this is to the equivalent level as the old EN Level 3 Certification for Specialists and Engineers, with demonstrated Certificated Competence to undertake CP designs and complex data interpretation, with a more rigorous assessment process.
• An entirely new ISO Level 5 Expert Certification for those meeting all of the requirements of Levels 1-4 but who also have advanced the state of the art of CP by scientific work and peer-reviewed publications and have made a marked and original contribution to the science or practice of corrosion control 
by CP.
Courses will be run at Level 1 in the Buried Sector and at Level 2, Technician and 3, Senor Technician Level in Buried, Marine and Steel in Concrete Sectors. As is established practice, the Steel in Concrete Sector courses will be run in conjunction with the CPA.
Over the period of the next few months all ICorr Certificated CP Personnel with valid Certificates for EN Levels 1-3 will be issued with new Certification for ISO Levels 2-4 respectively, and the certificates will terminate (for re-Certification) at the same dates as the old EN certification.
Over the same period all the new courses will begin to be delivered and ICorr have now approved 12 tutors to deliver them, all are highly experienced specialists in the Sector being taught, and have been selected for their ability to teach effectively at the particular Level in their Sectors.
We are pleased to announce that National Grid and some of the gas distribution companies have committed to all of their CP staff and those of their contractors being trained and Certificated by ICorr.
In order to further improve the quality of the courses, ICorr have:
• In conjunction with IMechE Argyll Ruane, our training partner, established a Buried pipeline training and testing facility at the IMechE Training and Examination Centre at Sheffield. This includes galvanic and impressed CP systems, a range of coupon and reference electrode options, coating defects and an interference source.
• Determined that all Marine CP courses will be undertaken with practical training on real CP systems, and real corroding assets in real marine environments. This has already started with two courses having been held on the River Clyde in Glasgow. The courses were held at the Riverside Museum and site work included the "Tall Ship" Glenlee moored alongside (which is also shown on the cover of this issue). Seaforce Glasgow provided logistic support, and Swain Meter Co, Cygnus Instruments Ltd and Buckleys (URVAL) Ltd supplied the instruments. Other locations have also been used and more are planned.
n In conjunction with the CPA and IMechE, will soon have an equivalent Steel in Concrete training and testing facility to the Buried facility, at Sheffield.
The 2019 new ISO 15257 course programme has been agreed,
• Buried Data Collector, Level 1: IMechE AR, Sheffield, monthly starting July, to be confirmed.
• Buried Technician, Level 2: IMechE AR, Sheffield, weeks starting, 20 May, 29 July, 9 September, and 11 November.
• Buried Senior Technician, Level 3: IMechE AR, Sheffield, weeks starting, 24 June, 26 August, and 28 October.
• Steel in Concrete Technician, Lever 2: IMechE AR, Sheffield, week starting 2 October.
• Marine Technician Level 2: Port of Dover, week starting 17 June.
• Marine Technician Level 3: venues to be arranged, expected start July onwards.
The planned venues for the Marine Technician courses, in addition to the Port of Dover, are East Coast and South Coast of England and Scotland.
Remember TO BOOK EARLY, to avoid missing these courses. Contact IMechE AR, https://argyllruane.imeche.org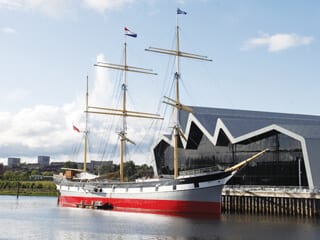 Riverside Museum and Tall Ship, Glenlee. Courtsey of Glasgowlife.org.uk