IMechE Argyll Ruane have been delivering corrosion and coatings inspection courses accredited by ICorr for over 20 years.
Over the past few years, they have been expanding their international network of strategic partnerships to enable them to offer these ICorr courses globally.
By forming partnerships with key organisations, IMechE Argyll Ruane are now able to deliver these courses within Europe, the Middle East, Australia, India, China, Malaysia, Indonesia, Libya, Egypt and the USA. Their approved training Partners include, HTS Consultants, Alfa Egypt, RSA Academy, Leptis Ltd, Indonesian Institute of NDT, ICE-International Consultant Engineers, and TÜV Rheinland, who are all dedicated to supporting students with their ICorr training. Many, such as Leptis Ltd in Libya, have made significant investments into providing state-of the-art training facilities for students to enjoy.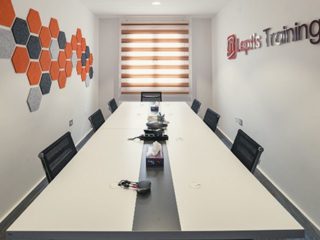 Moreover, IMechE Argyll Ruane are working with a number of consultants to facilitate the delivery of these UK and overseas ICorr courses, including Kevin Graham, Simon Hope, Jane Lomas, Alex Garner, David Stowers, and Sherman Spear, who each bring a significant level of experience and breadth of knowledge of the corrosion and coatings inspection industry.
Courses that are available across these locations include ICorr Level 1, 2 and 3 Protective Coatings Inspector, Insulation Inspector, and Level 2 and 3 Passive Fire Protection (PFP) Epoxy Coating Inspector. Additionally, ICorr Level 2 Passive Fire Protection (PFP) Epoxy Coating Inspector, PCI Transition courses and Recertification examinations are available online. Upcoming course dates can be found on the website, and the diary page of the magazine.
For further information or to book, contact IMechE at, argyllruane.imeche.org., or telephone: +44 114 399 5720.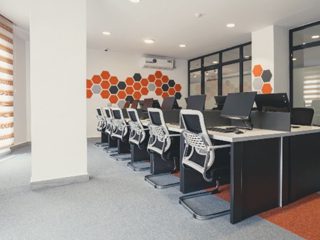 Leptis Ltd have invested in new training facilities for the delivery of ICorr courses in Tripoli, Libya.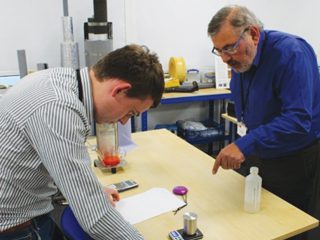 Simon Hope, who has over 45 years' experience in the corrosion and coatings inspection industry, passing on his knowledge to a student on a Level 2 Protective Coatings course at IMechE Argyll Ruane training facility in Sheffield.