Conferences & Events
Here you will find the latest events and conferences.

ICorr President Talk – How can the Institute of Corrosion adapt to thrive in a rapidly changing world?
March 14, 2019 @ 6:00 pm

-

9:00 pm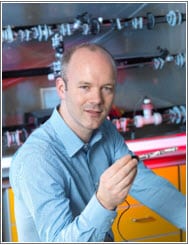 Bio
Dr Gareth Hinds is NPL Fellow and Science Area Leader in the Electrochemistry Group at the National Physical Laboratory (NPL). His primary expertise is in the development of novel in situ diagnostic techniques and standard test methods for assessment of corrosion and material degradation in energy applications. Gareth has a strong track record of delivering innovative solutions to engineering problems with demonstrable impact on industry in a range of sectors, including oil and gas, power generation and electrochemical energy conversion and storage. He is the author of over 150 publications and is currently serving a two year term as President of the Institute of Corrosion.
Summary
Like many professional societies, the Institute of Corrosion faces an ongoing challenge to communicate and deliver tangible benefits to its members. At the same time, the world is changing at an unprecedented rate, driven by a growing awareness of the environmental impact of fossil fuels, population growth and rapid technological innovation. This talk will provide an overview of the external factors that could have a major influence on shaping the future of the Institute, including the transition to low carbon energy, the digital revolution, the growing generational gap and the UK Industrial Strategy. It is critical that the Institute anticipates the need to adapt to these drivers and establish a clear strategy to ensure its future sustainability. A number of potential ideas will be explored during the talk and opened to the floor for discussion.