Join the largest community of Corrosion Scientists and Engineers in the UK, access all the skills and opportunities you need to develop your career.
Discover the range of benefits ICorr members enjoy from free networking events to professional development.
Find businesses and organisations that support and are affiliated with the Institute using our handy search tools.
Training & Qualifications
We offer a range of courses and qualifications to help you develop the latest practical skills and thinking.
CPD comprises learning activities that you undertake to gain knowledge and experience in order to help you in your professional career as a corrosion scientist or engineer.
CEOCOR 2018
International Congress and Technical Exhibition
Crown Plaza Hotel
Stratford-upon-Avon
United Kingdom
15-18th May 2018
Registration is now open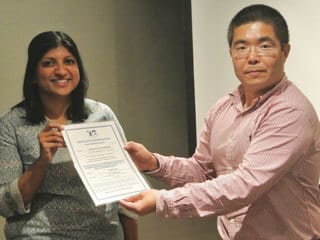 The opening events of the 2017-2018 session kicked things off to a very good start with an average attendance of 50. Firstly, September was a joint event with TWI, and there was a very interesting presentation by Susan Jacob of CAN (Offshore) Ltd, entitled...
read more