Structure of ICorr
The Institute of Corrosion is a Registered Charity and run by volunteers from the Industry.
The business of The Institute of Corrosion is steered by The Council and governed by the Trustees. The Council is chaired by the President of the Institute of Corrosion and supported by the Immediate Past President and The Past President giving the officers 9 years' service to ensure continuity.  The President is elected by The Council and ratified by The Trustees.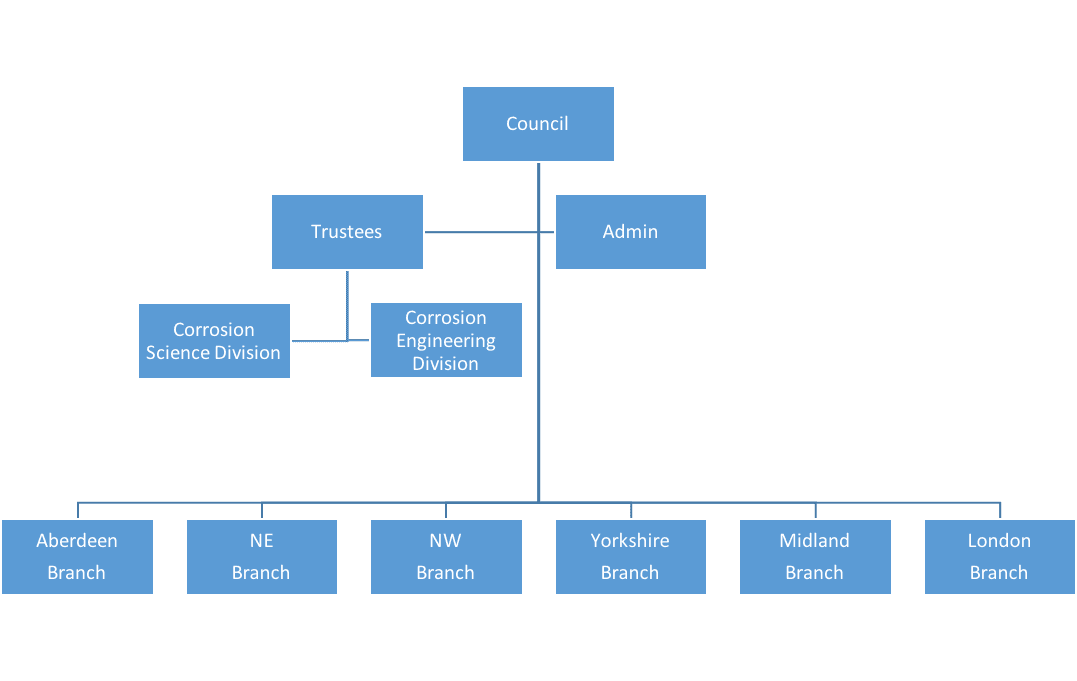 Council Members
The trustees and council members listed in the current draft Trustees Report for 2019/2020 is as follows:
 Trustees/Directors
President:  Gareth Hinds
Immediate Past President:  Sarah Vasey
Past President:  John Fletcher
Honorary Treasurer:  Tony Collins
Honorary Secretary:  Jane Lomas
Chair PDTC (Professional Development & Training Committee):  Chris Atkins
Chair PAC (Professional Assessment Committee):  Paul Lambert
Chair CSD (Corrosion Science Division):  Julian Wharton
Chair CED (Corrosion Engineering Division):  Nick Smart
Chair Young ICorr:  Simon Bowcock
Chair Aberdeen branch:  Yunnan Gao
Chair London branch:  Paul Brooks
Chair Midlands branch:  Bill Whittaker
Chair North East branch:  Neil Wilds
Chair North West branch:  Andy Bradley
Chair Yorkshire branch:  Nigel Peterson-White
Technical Editor Corrosion Management:  Brian Goldie
Co-Opted Council Members: 
MD Correx:  Steve Barke
Chair Course Approval Board/Quality Rep:  Dave Harvey
EFC Liaison:  Don Harrop
Chair CPGB sub-committee: Brian Wyatt
Science Council Rep: Brenda Peters
Bill Cox
Trevor Osborne
George Winning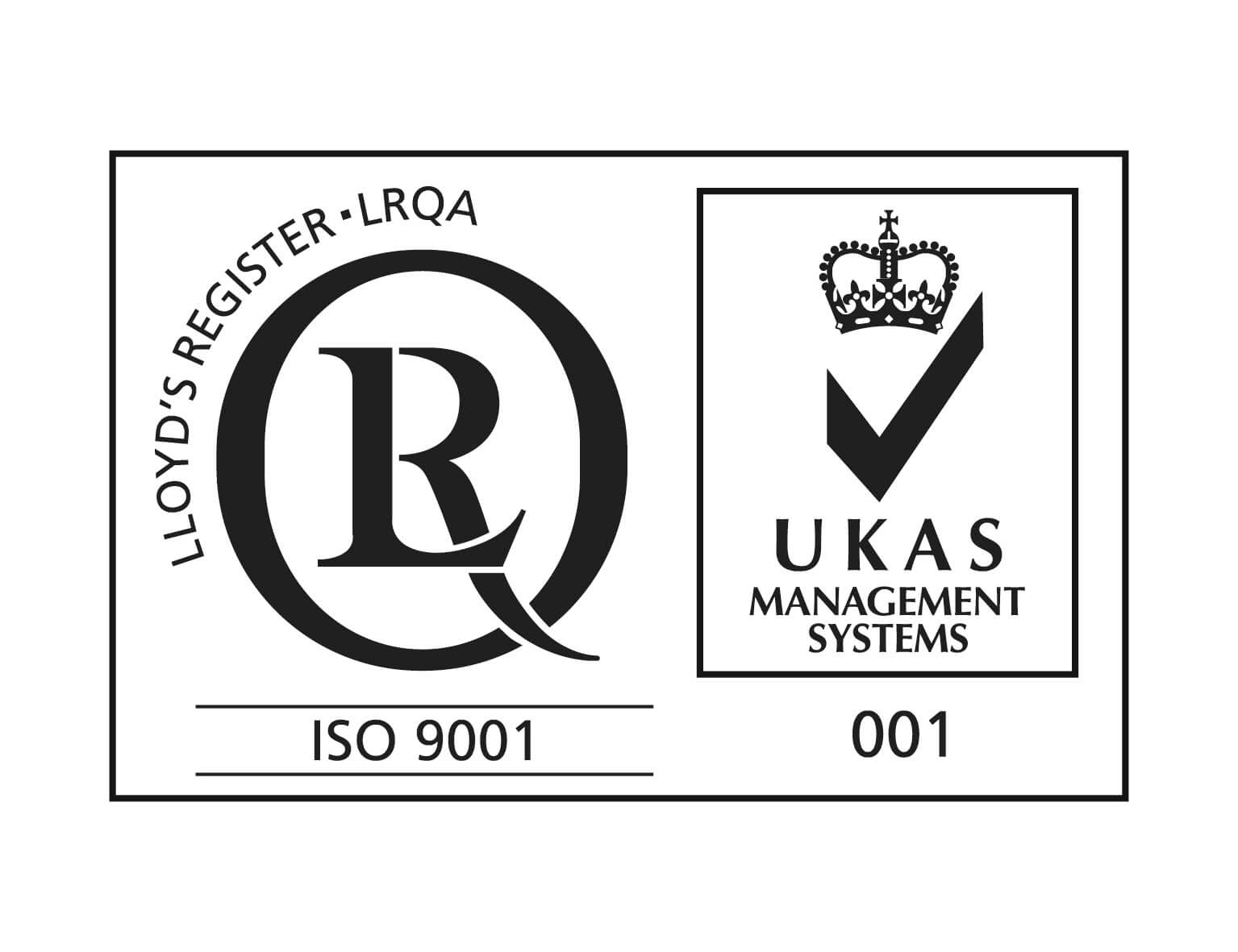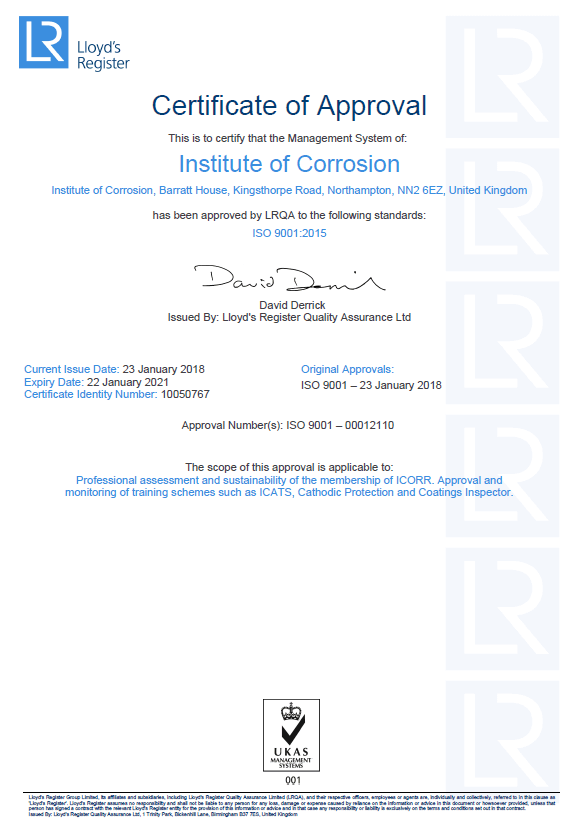 ISO 9001 and Quality Assurance
We are pleased to announce that Correx has achieved certification to ISO 9001: 2015 for the Correx Quality Management Systems. LRQA was engaged to carry out this certification and audited the company in May 2017.  ICorr are still progressing towards certification and hope that it will be awarded by the end of 2017.
The scope of the ICorr Quality Management System covers:

Governance

Professional assessment and sustainability of the membership of ICorr.

Approval and monitoring of training and certification schemes such as Cathodic Protection, Coating Inspection and Industrial Coating Applications Training Scheme (ICATS).

The scope of the Correx Quality Management System is the Management of the Industrial Coatings Applicator Training Scheme.  In addition to enhancing the operation of the scheme, it is also a requirement of Highways England that schemes approved for the Training and Certification of Personnel Engaged in Industrial Coatings Application for National Highway Sector Scheme 19A (NHSS 19A) comply with ISO 9001
Quality Assurance and ICorr
At the Institute of Corrosion, we have always understood the importance of providing a high quality of service to our Members and Clients. We have therefore embarked on setting up a Quality Management System fully complying with ISO 9001:2015.  This has also been a requirement by the Highways England.
Our Quality System has been audited by LRQA and is now accredited with meeting the requirements of the ISO 9001:2015 Standard as shown on the certificate below.
The QMS will be audited both internally and externally to ensure ongoing compliance with the Quality System and continuous improvement of our system.
Correx are also separately accredited to this standard for ICATS
David Harvey, CEng, FICorr – Quality Assurance Adviser
ICorr Data Protection Policy
Introduction The Institute of Corrosion (ICorr) is required to maintain certain personal data about living individuals for the purposes of satisfying operational obligations. The Institute recognises the importance of the correct and lawful treatment of personal data; it maintains confidence in the organisation and provides for successful operations. The types of personal data that the Institute of Corrosion may require include, as examples, information about: current, past and prospective employees and officers of ICorr; members of ICorr; individuals who hold certification where ICorr is the Certificating Body; suppliers and others with whom it communicates. This personal data, whether it is held on paper, on computer or other media, is subject to the appropriate legal safeguards as specified in the Data Protection Act 1998. The Institute of Corrosion fully endorses and adheres to the eight principles of the Data Protection Act. These principles specify the legal conditions that must be satisfied in relation to obtaining, handling, processing, transportation, and storage of personal data. Employees and any others who obtain, handle, process, transport and store personal data for the Institute must adhere to these principles
Download the ICorr Data Protection Policy
ICorr Req Doc (NHSS 19A)
ICorr REQ DOC (NHSS 19A)
Requirements for the Training and Certification of Personnel Engaged in Industrial Coatings Application for National Highway Sector Scheme 19A (NHSS 19A – For corrosion protection of ferrous materials by industrial coatings)
ReqDoc_Sector 19A Edition 4 approved July 2018