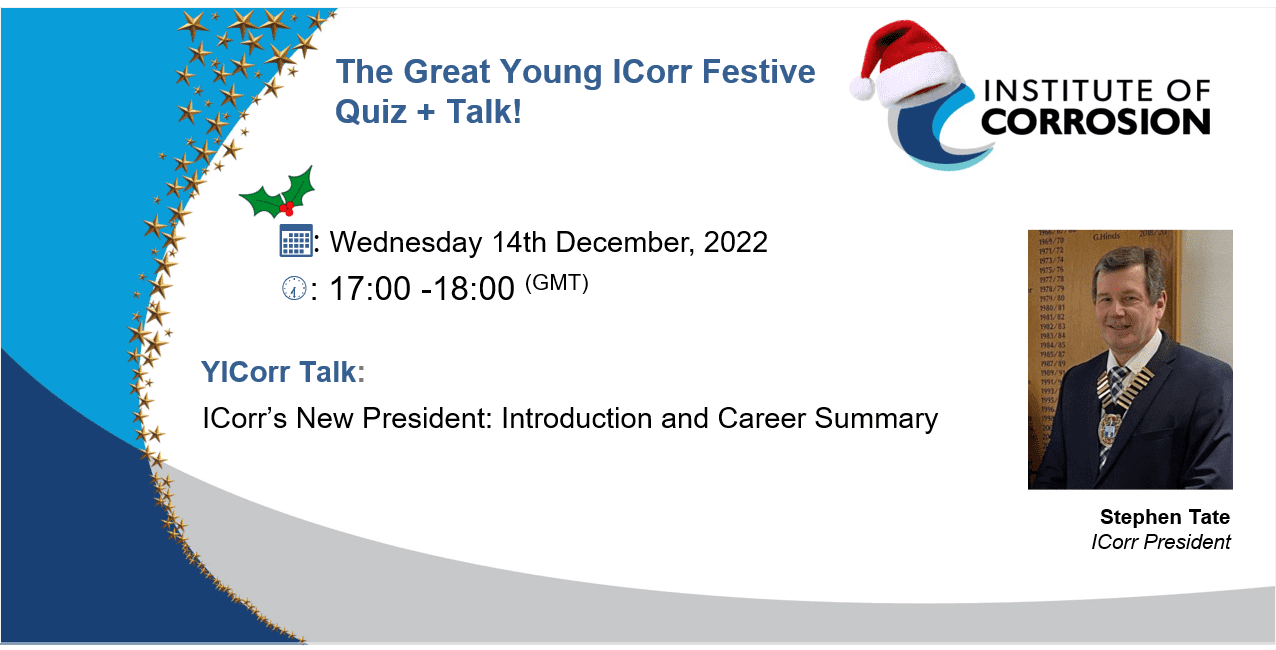 Date: 14/12/2021
Time: 17:00 – 18:00 (GMT)
Location: Zoom/MS Teams (to be send to everyone that registers)
Tickets: https://www.eventbrite.co.uk/e/young-icorr-a-career-in-corrosion-festive-quiz-tickets-482401755637
Following the popular Young ICorr Festive Quizzes of 2021 and 2022 we will be hosting another online event this December. Join us on Wednesday 14th December, 2022, at 5 pm for our 2022 Festive Quiz and Talk. Young Institute of Corrosion (Young ICorr) are pleased to announce that Stephen Tate, ICorr President, will be presenting "ICorr's New President: Introduction and Career Summary".
Following the talk, there will be a team quiz, where we will allocate the teams to enable you to meet other Young ICorr members. Following the quiz, there will be a networking session to enable you to interact with your peers. This is a great event to socialise, network and participate in a fun corrosion and materials quiz with a festive twist.
To register for the event, please copy this link into your browser: https://www.eventbrite.co.uk/e/young-icorr-a-career-in-corrosion-festive-quiz-tickets-482401755637
We look forward to seeing you then!