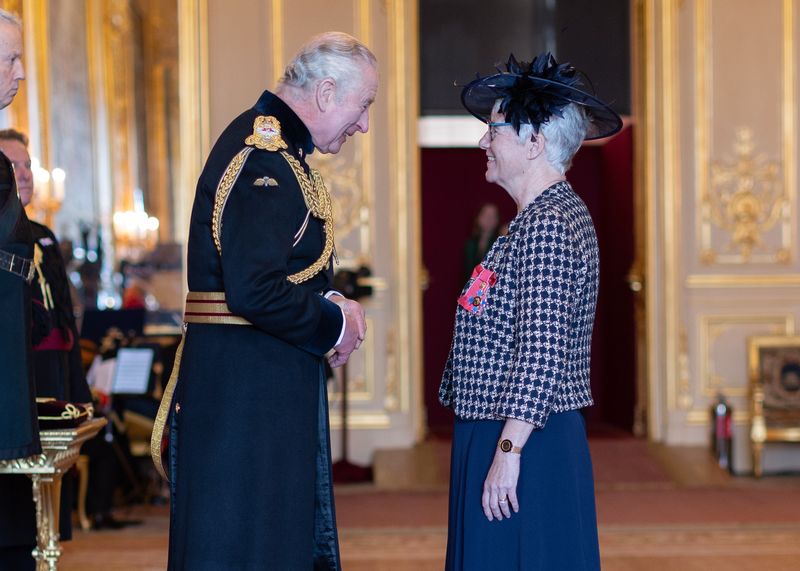 "An Award for All in Corrosion"
The CBE (Commander of the British Empire) is one of the highest awards the Monarch can bestow on an individual. King Charles presented his first New Year Honours in January 2023, and among the recipients of the CBE was Dr Liane Smith.
Dr Smith's CBE was originally made in the 2022 New Year Honours list of 2022 by HM Queen Elizabeth, for services to engineering and materials science.
Now, it's not every day you get to grill a CBE. But we were given the opportunity recently. And a very great pleasure it was, too. Read on to learn about Dr Smith's career, thought for the future, and, of course, her memories of the investiture on 31st January 2023.
What did you aspire to be when you were younger?
When still a child, I was always fascinated by the oil refinery at Stanlow when we drove past it as we headed for family holidays in Wales. I remember asking my teachers who knows what a refinery does. My chemistry teacher, who had a background in industry, simply said, "Chemical engineers." So that's what I set my heart on becoming.
I was advised that it was easier for girls to get into this field via the pure science route of chemistry, before shifting to engineering. Well, it was the 1970s!
So, how did you end up as a corrosion specialist?
I studied hard, and was accepted into Cambridge, where I read physical sciences including the option of Metallurgy and Materials. After two years of major chemistry, things were getting extremely serious. I'd also found Metallurgy and Materials exciting and interesting – so I shifted to this for my final year.
What was your first job like?
You know, there was a curious twist to my first job. I started my working career at Shell's Research and Development Centre at Chester. Next door to Stanlow, the source of my initial interest in engineering.
I had asked to be able to do a PhD. Shell agreed, on the proviso that I wouldn't be required to spend too much time away. I secured a 'guaranteed' three-year project. Shell agreed to publish the results – a key requirement of the PhD. The University of Sheffield offered flexible arrangements.
I had a 6kW CO2 laser to weld steel. Wonderful fun! I examined the welds using the electron microscopes at Sheffield during the weekends.
You decided to stick with Oil and Gas. How did your career progress?
I'd been working for Shell for four years when I requested a transfer. I was fortunate that a potential move to Head Office in the Netherlands became available.
I spent 2 years in the group that was conducting in-house Front End engineering & Design (FEED) studies at that time. I had the responsibility for selecting materials. There were no guidelines to follow. Scary stuff for a young engineer. So, I started to collect information on materials performance – a habit that has continued throughout my career.
It was here that I started to study CO2 corrosion problems with my boss Dr Kees de Waard, a famous expert in this field. I learned so much from him, and we've remained great friends.
From here, I spent a further two years with NAM – the largest gas company in the Netherlands. There I dealt with sour service processing plant and pipelines. I was also a senior welding engineer, with responsibilities for developing welding procedures for Alloy 825 clad pipelines along with my fellow welding experts within the company.
What have you enjoyed most about your career in corrosion?
Ask any engineer what they enjoy most, and you'll probably receive the answer, "Being a part of a team that created something special, and seeing it come to life." I'm no different, though in 42 years I've seen a few projects designed, built, operated and completely decommissioned and removed!
I've been blessed to work with great people in fantastic teams, and on some wonderful projects, at FEED or detailed engineering stages. Many large projects, too.
Perhaps the largest was the Shah gas project in Abu Dhabi, where I advised on materials from the wells through all the processing and through to a sulfur pelletising plant and trains to the coast.
I have also worked with some wonderful materials manufacturers across the globe, helping them to optimise their products for challenging service (like high-strength hydrogen-resistant steel). Making breakthroughs on products that open new markets is a fantastic feeling, too.
Increasingly, I work with operators who have enormous challenges to ensure existing assets remain operational as they reach or exceed their design life. It's both challenging and satisfying to get into the detail of the history of operation, and then model the likely remaining wall thickness or tolerance to known defects so that safe limits can be put on continued operations.
What career advice would you give to a young corrosion specialist? 
Oh, this is easy to answer. Three things, really:
First, you made an exceptionally good choice of career. Thermodynamics is on your side!
Next, don't over-plan your career. Go with the flow, and take opportunities as they arise.
Third, work hard. Take pride in your work, and accept the reward of the satisfaction in doing a good job.
There's one other piece of advice I share specifically with females. You don't need to build a career before you "take a break" to have kids. You don't take a break from life – you get on with it and make it work. It's amazing how you and your partner can make parenthood and the jobs work together. 
What is in store for corrosion professionals?
Plenty. By definition, corrosion isn't about to disappear any time soon, our role is just to control it within manageable rates and forms, but as we learn more about it, and as industry develops in its breadth and geographical reach, the flow of new challenges will continue.
Would you recommend joining a professional body?
I'm very positive about membership of professional engineering institutions. I think that being a chartered engineer (in my case, through IOM3) is something to aspire to and work for. The maintenance of high standards in our profession is something that professional bodies, including the Institute of Corrosion, promote and uphold. They also establish a common core of skills for our profession for people entering it from different routes and at different levels of experience. And this is crucial in a rapidly advancing world.
What's your favourite food?
I'm omnivorous, which helps enormously when travelling and you're unable to identify the content of your dinner!
At home, we're fortunate to be surrounded by farms. So we get to eat a lot of very fresh and organic food. I have to say, though, I'm particularly partial to a well-matured steak.
What do you like doing most outside of your professional life?
I love singing in choirs and have quite a high soprano voice. I've sung with many groups across the UK, and other countries in which I have been based over the years. And it's not just the singing I enjoy; it's a great way to make friends, too.
Tell us a secret about yourself, something that might surprise people who don't know you.
I got married when only 20 years old. That's something that many would find unbelievable today. It was a decision that worked out incredibly well. This year we celebrate 43 years together.
And here's something that very few know about me. My maiden name is Smith, and I married a John Smith! When I was in the Netherlands the personnel department automatically called me Mevrouw Smith-Smith, which I said was ridiculous and I insisted to be just 'Smith'.
And my friends and colleagues at Shell named me Smith Squared for a laugh!
Memories of Receiving the CBE
Of course, we couldn't let Liane go without divulging a few details about being awarded Commander of the Order of the British Empire. It's not every day you get to meet a CBE:
What was it like meeting our new King?
Quite the most wonderful privilege. It was in Windsor Castle and the rooms were stunning, the organisation immaculate, and the King was so friendly and interested.
How challenging was it to select your outfit for the day?
The dress and jacket were easily selected from my wardrobe. But I decided to invest in a new hat. It was fun to try on numerous options. My sons and husband wore morning dress and looked amazing, too.
Did you have to undergo any 'instruction' prior to meeting King Charles?
We were told where to stand and how to address him (Your Majesty, and then Sir thereafter). Plus, we were advised that he liked to shake hands, so not to hesitate if it was offered, which it was, and I did.
How did your sons react to the news when you finally were able to tell them during the Christmas/New Year break?
They were absolutely delighted and impressed. They're waiting for me to get a coat of arms designed so they can use it also!
How has your CBE affected you in your professional life?
To be honest, I don't see this as a recognition for my efforts in this industry and this profession. It's an accolade that is for all of us. On a personal level, the most fantastic aspect was the response to me posting it on my LinkedIn page. Such a wonderful, positive response from so many people across the globe.
I don't think it changes anything about how I do my professional life, but it shortens the CV!
Where on earth do you go from here?!
Currently, I'm still delving into the impact of corrosion on assets and trying to assist clients to achieve their objectives. It's not stopped keeping me engaged and busy. As I said earlier, in the world of corrosion, our job is never complete!