Well established online training company, Corrodere Academy, are now offering Pipeline Coating Inspector and Insulation Inspector courses with ICorr accreditation.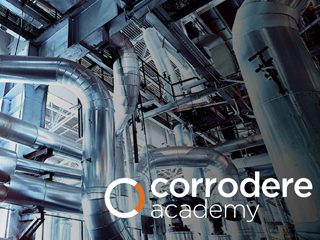 Corrodere Academy offer globally recognised qualifications in the protective coatings industry including Train the painter, coating inspector and specialist courses. This is the first time ICorr accredited Pipeline and Insulation Inspector courses have been available online, saving students 50% of time and money in comparison to classroom learning.
The importance of monitoring pipelines
Pipelines are energy lifelines, making almost every daily activity possible. They play a huge role in our everyday lives and are essential to the world's industries. The world's transportation would come to a complete stoppage without them as
they carry everything from oil and gas to fresh water.
Course content includes an overview of the pipeline industry, pipeline corrosion, cathodic protection and coatings, quality assurance and control, safety, and pipeline inspector duties, recommended practices and international standards and environmental considerations.
This qualification opens extensive career opportunities in the oil and gas, subsea, fresh water, diesel and petrol and jet
fuel industries.
The importance of monitoring insulation
One of the hottest topics in the protective coatings industry, insulation has been used for centuries to keep heat in and cold out or vice versa. The energy saving and environmental benefits that come from proper insulation are hugely significant. By making buildings and process systems more energy efficient, insulation helps reduce the amount of fossil fuel combustion needed to heat and cool homes, businesses, and factories. That, in turn, decreases the amount of carbon dioxide emitted into the atmosphere.
Course content includes a history of insulation systems, corrosion under insulation, insulation design, standards and specification, quality assurance and control, safety and insulation inspector duties, insulation application and conducting coating surveys.
These distance learning courses, when completed satisfactorily, lead a certificate of achievement accredited by ICorr, which is valid for 5 years.
For more information, contact
the team on 01252 732233 or
info@corrodere.com