Indestructible Paint has announced the passing of the founder of Indestructible Paint, Douglas Norton, in late September 2022. Born on 19th August 1930, Doug developed a passion for paint and surface coatings when he was apprenticed at Llewellyn Ryland from 1948 to 1950. Doug was called up between 1950 to 1953 for National Service. His career progressed with Permoglaze between 1954 – 1956 at Tenbury Wells, from where he moved to Gittings & Hills Paint Company of Nechells, Birmingham, which became Ault & Wiborg, where his career progressed eventually becoming Chief Chemist, then Export Manager.
Ault & Wiborg closed their Birmingham branch circa. 1977, Doug was invited to move to London to the Perivale site but he did not wish to uproot his family, and with great pride, Doug opened the doors to Indestructible Paint on 4th July 1978 which Doug referred to as his "Independence Day!"
Thanks to his passion for surface coatings, his expertise and dedication to customer satisfaction, the company grew from a small, independent workshop in Birmingham's Acocks Green, to become a leading supplier of high-performance, niche aerospace products for international customers. To add to Doug's already impressive list of achievements, Doug was a Past President of the Birmingham Paint Varnish and Lacquer Club and a proud member of OCCA, The Oil & Colour Chemists' Association, and having been a member for over 50 years.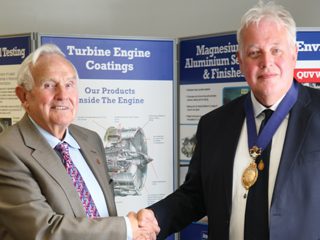 Doug Norton (left).