The branch Christmas lunch returned to the Royal Overseas League in Mayfair on 2nd December 2021 after the enforced absence of 2020. The number attending was restricted compared to previous years but over 120 guests attended the event which again started with a drinks reception followed by a four-course meal in the Hall of India and Pakistan.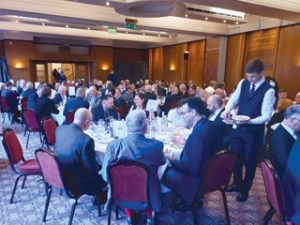 After the meal, branch chair Ben Moorhouse introduced the guest speaker Bob 'the Cat' Bevan who entertained the guests with old style jokes and comedy. Most of the guests stayed on for a while to socialise and network and many then transferred to a local public house to continue chatting. The event made a small surplus and thanks must go to the organising committee, Jimmy Glynn for organising the raffle as he has for many years, plus Correx, CTS and Telpro for providing sponsorship. The 2022 lunch is already booked at the ROSL for 1st December this year and we look forward to another successful event.  
There was a presentation after the meal to the best apprentice of 2021, Kian Power, who received his certificate and shield from Kevin Harold, MD of Correx.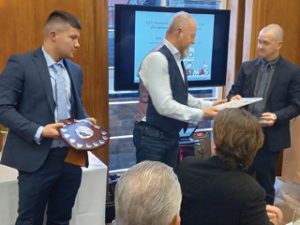 The January technical meeting, chaired on this occasion by David Mobbs, featured an online presentation on "Life extension of offshore platforms, through retrofit CP design assisted by modelling" given by Dr Paolo Marcassoli, Cathodic Protection and Inspections Manager at Cescor Srl, Italy, and Istvan Bartha, Independent Subsea Consultant.
Paolo Marcassoli has fifteen years' experience in materials and corrosion engineering and cathodic protection engineering gained in an academic environment and in the onshore and offshore oil & gas industry, offshore wind, and in infrastructures. He primarily carries out activities in the fields of CP design and FEM modelling, monitoring and CP inspections, and corrosion control.  
Istvan Bartha is an experienced integrity engineer with over 20 years' experience in fields of subsea, pipelines, structures and bridge engineering, who has participated in major oil and gas projects ranging from concept and design stages through to fabrication, installation and operation of new and ageing assets. Istvan has a detailed knowledge of key design and operational principles of onshore, subsea and topside production, and control systems, requiring detailed analyses of technical data such as RBI, FMECA, RCA or CP, and collaboration with other engineering disciplines and close interface with the client.
Paolo explained that a significant number of permanent offshore structures for oil and gas production in the world, including steel jacket platforms, are reaching or have exceeded their original design life. They require extension of life or requalification programmes to prolong their operating life. Cathodic protection (CP) is one of the issues to be carefully managed as part of this process. In case the original CP system cannot guarantee the planned residual life, a retrofit intervention needs to be designed and executed.  The design of CP retrofit systems, although technically adhering to the stipulations of the applicable codes, does not necessarily follow the criteria and approaches adopted for new facilities, as the intervention is required to be executed with the structure in-place, including significant marine growth and calcareous deposits, aspects which could affect CP repolarisation and maintenance rates as well as potential obstructions from installation perspective. All the above, have a strong impact on installation requirements and costs. Accordingly, dedicated CP expertise has been developed for retrofit applications, aimed at selecting the most convenient system. A tailored approach is followed, by considering the most appropriate design parameters, affected by the present polarisation conditions, presence of marine growth and calcareous deposits, on the structure. Paolo described the retrofit process though a real case where Cescor designed, supplied and commissioned the system.   The pros and cons of impressed current vs galvanic anodes were highlighted and in this case the options verified through Boundary Element Method (BEM) modelling.  A galvanic anode string as opposed to an anode pod was selected due to installation constraints, the detailed design developed and the materials supplied.
Istvan then described the installation phase in detail, which had its own challenges due to the Covid pandemic affecting the workforce, personnel limitations on the platform due to simultaneous operations. A high level insight was provided regarding the engineering studies completed to support the installation phase, such as Finite Element Analysis of the above water clamps, fatigue checks, lateral displacement and tensioning requirement of the strings as well as developing the subsea anchoring. Furthermore, a short presentation of the offshore installation phases and activities was provided.
Finally, Paolo described the preliminary CP survey about six months after installation, which confirmed the corrosion protection target had been restored.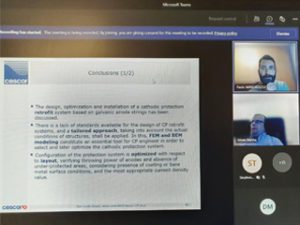 David Mobbs thanked the speakers for a very interesting talk which had been attended to by 40 engineers including several from Europe, Canada, USA, S. Africa and the UAE.  The online event was organised by Agnieszka Knyter of London branch, who also very efficiently managed the Q&A session with the speakers. A video of the presentation can be found on the Institute website at
www.icorr.org/london-branch-online-meeting-13-january-2022/