Winn & Coales (Denso) Ltd.'s SeaShield 2000FD™ System was recently specified for the protection of 31 jetty piles at the Royal National Lifeboat Institution's (RNLI) station in Padstow, Cornwall.
The existing epoxy coating on the piles had begun to fail due to its length of time in service, and abrasion caused by exposure to the local marine environment. The complete coverage of each pile required the installation team from PSJ Marine Services to work at height, from the beach, and subsea to fully protect the 16 piles of 762 mm diameter and 15 piles of 813 mm diameter.
The SeaShield 2000FD System, consisting of Denso Paste S105™, Denso™ Marine Piling Tape and a tough outer HDPE jacket, offers heavy-duty protection from corrosion and is suitable for application both above and below the water line, making it the ideal choice for this project and making Padstow the latest RNLI site to be protected with a SeaShield system., concluded the company.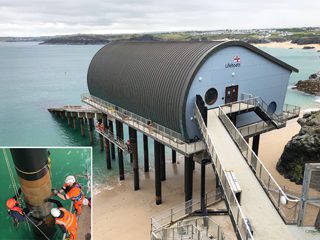 RNLI Padstow Lifeboat Station, with contractors applying Denso™ Marine Piling Tape (inset).