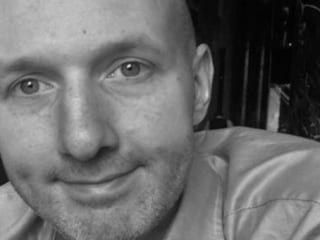 Pictured: Adam Lea-Bischinger, CEng CMgr MEng CMRP Eur Ing, Snr. Consultant with Fokus – Reliability and a Specialist in Asset Management and Performance Improvement.
The branch held its 7th event of the 2019/2020 session, on 27 April. This was the first of 5 technical presentations of the annual joint Institute of Corrosion/MCF (Marine Corrosion Forum) programme, held Online this year over 5 days, due to the COVID crisis. The heavily over-subscribed webinar was jointly chaired by Phil Dent (MCF) and Stephen Tate (ICorr-ABZ) with Lewis Barton (MCF) as webinar manager and with Dr Yunnan Gao (ICorr-ABZ) and Institute of Corrosion HQ jointly promoting.
The branch was very pleased to host Adam Lea-Bischinger, a Snr. Consultant with Fokus – Reliability, who currently holds several roles in Aberdeen including, Branch Chair of IAM – Institute of Asset Management, online course tutor in Asset Management for the University of Aberdeen, and Snr. Advisor to the Board of Pavan Asset Value Managers.
Adam has 15 year's experience working in maintenance, reliability, asset management and inspection covering major oil and gas, power, mining and infrastructure projects worldwide, and holds a masters degree in Engineering, Materials and Corrosion with post graduate training in Inspection and NDT.
Adam spoke enthusiastically on asset management and how it can deliver value to an organisation. He carefully described the six core elements of asset management, the work of IAM, and the development and roll-out of ISO 55000:2014 which defines terminology, requirements and guidance for implementing, maintaining and improving an effective asset management system, and gave examples of UK and overseas companies operating the ISO 55000 system, including many utilities, major transport operators and drilling companies, who all having significant investments to protect and maintain for their full life-cycle.
The now established standard has three key parts:
ISO 55000 – Asset Management – Overview, Principles and Terminology
ISO 55001 – Asset Management – Management systems – Requirements
ISO 55002 – Asset Management – Management systems – Guidelines for the application of ISO 55001
According to the IAM, "These three international standards are important not only for their content, but because they represent a global consensus on what asset management is and what it can do to increase value generated by all organizations."
The conceptual model, developed by IAM to show the core elements of the ISO 55000 series standard containing six main groups and thirty nine subjects is detailed below:
• Strategy & Planning
  • Asset Management 
 Policy  
• Demand Analysis
  • Strategic Planning
  • Asset Management 
 Planning
• Organisation & People  • Procurement & Supply 
 Chain Management  
• Asset Management 
 Leadership  
• Organisational 
 Structure  
• Organisational Culture
  • Competence 
 Management
• Asset Information
  • Asset Information 
 Strategy  
• Asset Information 
 Standards
  • Asset Information 
 Systems  
• Data & Information 
 Management
• Decision Making  
• Capital Investment 
 Decision Making
  • Operations & 
 Maintenance Decision 
 Making  
• Lifecycle Value 
 Realisation
• Resourcing Strategy
  • Shutdown/Outage 
 Strategy
• Lifecycle Delivery  
• Technical Standards
  • Asset Creation/
 Acquisition
  • Systems Engineering  
• Configuration 
 Management
  • Maintenance Delivery
  • Reliability Engineering
  • Asset Operations  
• Resource 
 Management
  • Shutdown/Outage 
 Management
  • Fault & Incident 
 Response  
• Asset Disposal
• Risk & Review
• Risk Management  
• Contingency Planing  
• Sustainable 
 Development  
• Management of 
 Change  
• Asset Health Monitoring  
• AM System Monitoring  
• Management Review
  • Asset Costing & 
 Valuation
  • Stakeholder 
 Engagement
The importance of team-working and good communication was heavily stressed, so as to achieve good LOF – Life of Field Design, and to avoid the too often prevailing SILO (compartmentalised) type mentality within organisations.
An extensive Q&A followed with questions on topics such as the use of 'Hands-Free' asset management software, conditioning monitoring, cyber security threats from wireless devices, and the management of 'Late Life' assets. Various aspects of implementation of ISO 55000 guidance were also discussed and highlighted global differences in asset management methods and regulation.
Following from the success of the April webinar with MCF which had an attendance exceeding 70 on all 5 days, it is now planned that the Institute of Corrosion will work together with MCF to continue the close co-operation now established, for its July meeting, in Birmingham, with webinars running between 6-10 July 2020, as the resumption of 'Face to Face' meetings is not being expected before that date.
On the 29th April, members of the Aberdeen Branch also participated in the online CED Working Day and Symposium on 'Corrosion Control in Transport and Infrastructure', with Alistair Seton of the Aberdeen Committee chairing the Oil and Gas Working Group.
There has been much debate of late concerning the impacts of the coronavirus outbreak, but both the Institute of Corrosion/MCF Webinars and the CED Online event, has proven beyond doubt that such obstacles can be overcome and that the demand for corrosion learning by whatever method, is as strong as ever.
As usual. full details of future branch events can be found on the ICorr Website, or by contacting: ICorrABZ@gmail.com. Copies of the majority of past branch presentations can be found at: https://sites.google.com/site/icorrabz/resource-center, and a photo gallery for all Aberdeen events may be found at: https://sites.google.com/site/icorrabz/event-gallery.
It should be noted that the planned Aberdeen event of Tuesday 23 June – 'Industrial visit (Oceaneering), an Alternative / Interactive Industrial Event', is currently postponed (awaiting Scottish Government instructions), with a new date to be advised, as soon as is possible.