Welcome to the London Branch
The fundamentals of the Institute of Corrosion is for the local Engineering Fraternity to gather, discuss the pro's and con's of the latest technology and network.
The branches are therefore located in strategic cities and grouped into six regions. Each Branch is made up with volunteers who work together to engage and provide support to the local engineering communities.
We also work with other Engineering Institutions to provide interesting and diverse topics for discussion at a local level, to include; IMechE, IOM3, Institute of Welding, Institute of Chemical Engineers.
Branch Meetings
Venue: The Lancaster Hall hotel, 35 Craven Terrace London, W2 3EL
London Branch meetings are held every 2nd Thursday in the month from September to May.
The evening events start at 18.00 with complimentary drinks.
The Technical Presentation starts at 18.30.
There is complementary buffet and a full bar from 19.30 onwards.
The meeting generally closes around 21.00.
The Lancaster Hall hotel
York Hall 
The Lancaster Hall hotel, 35 Craven Terrace London, W2 3EL
Latest News & Newsletters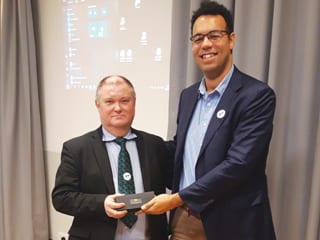 The February talk was given by George Winning, Technical Service Manager for Clariant Oil Services in Africa, a Fellow member of ICorr and London branch committee member. George explained in his presentation why the corrosion inhibitor injection systems are required,...
read more
London Branch Committee Members
Chair:
Paul Brooks
Vice Chair: Ben Moorhouse
Events: Trevor Osborne
Treasurer:  James Glynn
Secretary: Steve Barke
Web Updates: David Mobbs
Young ICorr: Sarah Vasey
Invitations: George Winning(Speakers)
Membership Development: David Mobbs
Public Relation: Brian Goldie
Committee Member: Mash Biagioli
Email address: icorrlondon@gmail.com