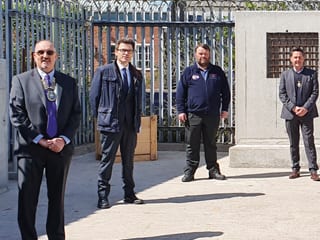 The Who, How, Where, and When of CP Certification Courses
In this series of blogs discussing ICorr's Cathodic Protection Certification Courses, we have examined:
Establishing competence in cathodic protection
Choosing which course is right for you
Charting your career with the CP certification scheme
In this last blog, we look at the who, how, where, and when of these groundbreaking courses.
A triumvirate of experience delivers exceptional CP training
We started updating our courses so that they would align perfectly with the new ISO 1527:2017. As is often the case, the planning and execution have taken a little longer than anticipated. We certainly were not helped by the interruption caused by the coronavirus pandemic.
What we had hoped to deliver in 2020 was delayed. It's here now, though, and courses have got off to a flying start.
For this latest phase in delivery of exceptional training in all things corrosion, we have partnered with the Corrosion Prevention Association (CPA). If you don't know who CPA are, here's a brief rundown – the CPA:
Represents consultants, contractors, and engineers working in the field of corrosion prevention [primarily in the reinforced concrete industry]
Acts as the leading authority and source of information on cathodic protection and other corrosion prevention techniques
Shares the Institute of Corrosion's values of encouraging a better understanding of corrosion and sharing of knowledge
CPA has extensive experience in the industry, including delivering seminars, demonstration days, holding industry events, providing CPD presentations, and, of course, online and in-person training programs.
To deliver the groundbreaking CP courses, the CPA partnered with Corrosion Control Services Limited (CCSL) to provide training facilities.
Best-in-class training facilities
CCSL has established an examination and test centre in Telford, Shropshire, and it really is a state-of-the-art facility. It is here that all our CP courses are delivered.
The Gary McKenzie Training and Examination Centre is an innovative development. We had no hesitation in approving it for courses in cathodic protection in reinforced concrete, and on-land (buried) and marine metallic structures.
Officially opened in May 2021, course delegates have already experienced all it has to offer. This includes 'real-world' testing grounds. Yes, course attendees will work on pipes and structures in settings that replicate being in the field. If it's raining, be prepared to get wet!
When are our cathodic protection courses held?
The Level 1, Level 2, and Level 3 courses last between two and five days. If you are taking the exam, this is a separate one-day event with exam days tagged to the end of each course.
Course dates have been announced for through to September 2022, and there will be more to come. The courses are selling fast, and some are already fully booked. You can find out available dates for your chosen course here:
At the time of publication, depending upon the course, the course cost is £575 and £1,200, with exams costing between £330 and £375. Once you have completed the course and been successful in the exam, you will need to apply to the Institute of Corrosion for appropriate certification.
To book a course, please contact CPA on 01420 471614 or send an email to admin@corrosionprevention.org.uk.
For any further information, or to enquire about membership of the Institute of Corrosion, please contact us.