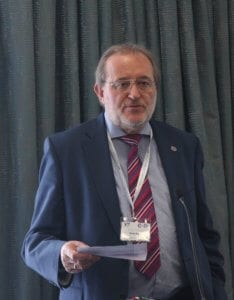 Brian Wyatt Presiden CEOCOR Welcoming the Delegates
Many of you know that in May 2018 CEOCOR held its Annual Congress in Stratford upon Avon. A significant number of those in ICorr with interests in buried pipelines, their internal and external corrosion mitigation, coatings and cathodic protection attended the Congress. This was the first time in the 62 years since the formation of CEOCOR that the Congress had been held in the UK. Those of you who may wish to know about the history of CEOCOR are encouraged to visit the CEOCOR web site  http://ceocor.lu and in 'Bibliography' and read the '50 years of CEOCOR.
ICorr and Correx Ltd were responsible for organising the venue, the Exhibition and the Social programme for both delegates and partners. CEOCOR were responsible for the Technical programme. All the bookings were administered by the ICorr/Correx Ltd Office staff. An organising committee chaired by Steve Barke and comprising Sarah Vasey (President), John Fletcher (Immediate Past President), Ross Fielding (Midlands Branch), Brian Goldie (Editor, Corrosion Management) and Brian Wyatt (ICorr and CEOCOR) were responsible for the planning and operation of the Congress. Linda Wyatt was responsible for the Partners' Programme and two of her ex work colleagues assisted with the registrations and enquires throughout the Congress. I thank them all for their tireless work over many months. There was a dedicated web site for which thanks go to Debbie Hardwick at SquareOne; our President opened the Congress, John Fletcher and Steve Barke were there all the time working to keep it all running smoothly. Thanks are also due to ICorr Council for their support from when this was just an idea and one that might have cost ICorr a lot of money.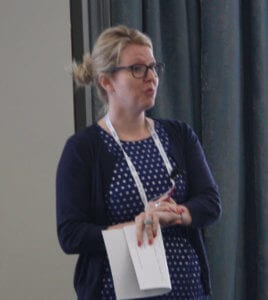 Sarah Vasey ICorr President open CEOCOR Congress
The Technical Programme was managed by the CEOCOR Secretary General Rene' Gregoor from Belgium and the two Presidents of Commissions within CEOCOR, Markus Büchler from Switzerland and Tom Levy from Luxembourg. Key Note Speakers were organised by ICorr.  Again, sincere thanks are due to all concerned.
 Technical Programme
The meeting was opened by Darren Thomas, Asset Engineering Manager of National Grid, who were also the Platinum Sponsors for the Congress. This was an interesting overview of the UK gas transmission pipeline assets, its management and the future challenges within the energy market of the UK. Darren also committed National Grid to the ICorr Training and Certification Scheme for Cathodic Protection Personnel. During the next 2 days there were a further three Key Note Speakers; Peter Elliott (Corrosion & Materials Consultancy Inc.) with an entertaining general paper on pipeline corrosion, Phillip Clisham (GHD) with a very informative paper on the UK water industry pipeline assets and the financial and political constraints for their management and Roger Francis (RF Materials) with a typically comprehensive paper on materials selection for pumps and the need for corrosion engineering expertise at the start of projects, not in the expensive 'fix it when wrong' stage.
There were a further 29 technical papers covering topics including:
Pipeline coatings
Pipeline cathodic protection criteria
Pipeline cathodic protection measurement techniques
Innovative pipeline inspection systems
Innovative coating assessment systems
Corrosion in drinking water systems
Issues with casings and isolating joints
DC and AC Interaction to pipelines and structures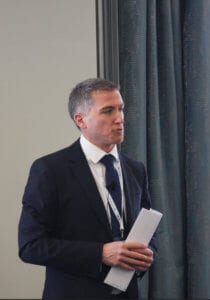 Darren Thomas, asset Engineering Manager, National Grid  Opening Address                 
My assessment was that the quality of the papers was, as is always the case with CEOCOR, first rate and that the delivery of them was excellent. Attendees were presented with these in hard copy and electronic formats. They are not available to non CEOCOR Members for 12 months (join for this benefit; it is only Euro 150) but next year they will be publicly available on the CEOCOR website.
Before and after the 2 day Technical Paper sessions were the Work Group meetings. These deal with technical issues of interest to the members; most of the European Standards related to cathodic protection of buried pipelines have been developed as pre-standards within these Work Groups. Their completed documents are on the CEOCOR web site. Current work includes CP criteria, reference electrodes, internal corrosion, casings and OFF potential measurements. Members and non members are welcome to participate, there are typically 2 or 3 meetings per year with electronic working between times.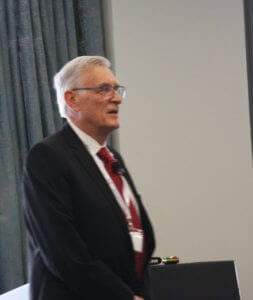 Peter Elliot, FIM and Past Chairman of ICorr delivering Plenary Lecture
Sponsors and Exhibition
The Platinum Sponsor was National Grid. There were 6 Gold, 8 Silver and 5 Bronze Sponsors who also exhibited, there were 4 Exhibitors and a number of Companies also sponsored other elements. All told there were 23 Exhibitors, a record for CEOCOR. One or two thought that they did not have sufficient space, but CEOCOR has always held small table top exhibitions. My thanks go to all of the Sponsors and Exhibitors, without whose support the Congress would not have been possible. Those that I have spoken to directly have all said that this was a success for them. This was not like one of the larger trade 'shows'; it was an opportunity to display and talk to some of the most senior technical authorities in buried pipeline corrosion in Europe. 100% of the footfall was high quality.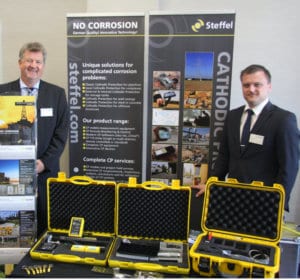 Exhibitors from Steffell Germany 
Social and General
Although the prime reason for attendance was work we also had a great time. We had a fantastic Gala Dinner with hilarious entertainment from the Shakespeare Birthplace Trust and some attendees who were prepared to enter into the spirit of Shakespeare and corrosion engineers! The BBQ, hog roast and Jazz trio was a fantastic networking opportunity. The Partners enjoyed visits all around Stratford and a private tour of Ragley Hall.
In total we had over 150 participants; again a record for CEOCOR. But we measure success by the quality and not the quantity; it was a great success. Those of you who were unable to come missed something really special; those of you who were unable to persuade your companies to Exhibit now know how wrong they were … but we had no more room!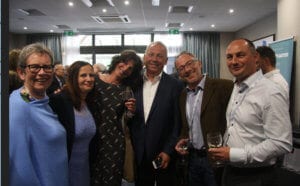 CEOCOR Attendants
What Next
I hope for more UK individual and corporate members of CEOCOR. The next Congress is in Copenhagen; see http://www.ceocor2019.com I know that the organising team of Lars Nielsen and Thomas Larsen will be striving to do even better than we managed to do; they are a good team and it is a good venue …. But they will have to work very hard to do better than 2018!
The Team for CEOCOR 2019 Copenhagen