The ICorr Induction presentation was performed in September 26th at Aberdeen University by Zahra Lotfi, who is currently Aberdeen ICorr Branch (University Liaison and CPD Officer). This event was excellently organised and the related flyers were circulated well in advance with the support of Aberdeen University, with 35 Students attending on the day.
Dr. M. Amir Siddiq of the School of Engineering, kindly supported ICorr to schedule the Induction Talk just after his Subsea Integrity lecture. This co-operation between ICorr and Aberdeen University resulted in a brilliant turn out of new MSc students, as well as many returning students.
The presentation commenced with introduction to corrosion, corrosion cost, the importance of corrosion control/ mitigate/ monitor, consequents of corrosion with several real life examples of catastrophic failure due to corrosion in oil and gas and transportation, common corrosion degradation mechanisms in oil and gas and the co-operation of different engineering disciplines who can provide the integrity of an asset.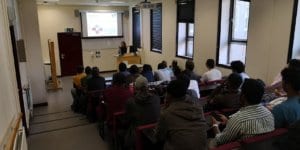 Photo: Presentation by Zahra Lotfi, (University Liaison and CPD Officer) to Aberdeen University Students on 26/09/2019.
The students were introduced to the Institute of Corrosion, its objectives, technical divisions, regional branches, trainings and qualifications provided by ICorr and the many benefits of ICorr membership (e.g. ICorr mentoring program to assist its members to achieve their Chartered Status) and how to apply for ICorr membership.
In addition, the students were familiarised with the work of Aberdeen ICorr branch, the activities calendar, its website and how the institute can assist students greatly in their continuous Professional Development (CPD).
At the Finale, questions on ICorr membership, chartered engineering requirements and local events were discussed in detail. It later continued with a further Q&A session while the students were enjoying eating Pizza provided by Aberdeen ICorr Branch.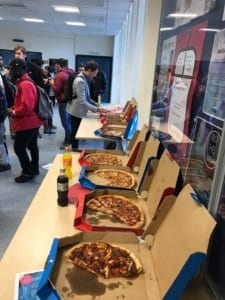 Photo: Students enjoy ICorr Catering at Aberdeen University Presentation of 26/09/2019.
Future collaboration events between Aberdeen University School of Engineering and ICorr were also discussed with Dr. M. Amir Siddiq and Dr.Henry Tan.
Great ideas and thoughts were offered by Dr. Yunnan Gao (Immediate Past Chair) on how the students can involve themselves in ICorr activities e.g. by way of a poster presentation or to present their research project in greater detail, at upcoming Aberdeen ICorr Events.
Further details may be found at:
Past Technical Presentation Slides: https://sites.google.com/site/icorrabz/resource-center
Photo Gallery for the Past Events: https://sites.google.com/site/icorrabz/event-gallery