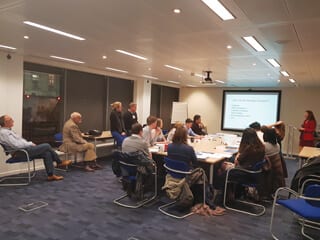 This year 14 students, with a cross section of the people having varying experience and from a number of locations, have been accepted for the course. The first session was held on 17 January, when Jane Lomas presented on basic corrosion.
The lecture was hosted by Sadegh Parvizi of CB&I in Paddington (the organisers are very grateful to him), and the evening chaired by George Winning of Clariant.
Bill Hedges of BP opened the meeting with a introduction about the YEP programme and the benefits that the attendees will enjoy from it, meeting industry experts at the top of their field who will share their knowledge, and most importantly networking. Bill went on to explain that the course depended upon engagement and encouraged the delegates to ask questions.
The President Sarah Vasey also addressed the delegates to thank the various people involved in the programme, including the lecturers who give up their time on a voluntary basis to share their knowledge and experience. Sarah went on to say that if you look around the room you already have a wealth of experience here and involved in this programme.
Jane Lomas then presented the lecture on Corrosion which was followed by a detailed Q&A session.
The event finished with a network session in Paddington where the delegates enjoyed something to eat and drink along with valuable time to meet the other delegates in person.
It is hoped that the November meeting of London branch (the sponsoring branch) will be dedicated to the presentations of the Case Studies undertaken by the students.