Kawasaki Successfully Completes Joint
Offshore Verification Test with TotalEnergies
for Measurement of Electrical Potential of Subsea Pipelines Using an AUV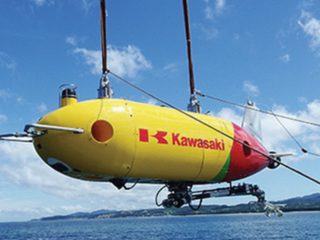 According to Kawasaki, the AUV is the world's first with a robot arm for subsea pipeline inspections. The development was carried out in response to the growing demand for subsea pipeline maintenance in offshore oil and gas fields. The vehicle is named SPICE, or Subsea Precise Inspector with Close Eyes.
Overall, SPICE has a length of approximately 5.6 metres, a width of 1.4 metres and a height of 1.1. metres. In the air, it weighs approximately 2,500 kilograms, and it can reach a maximum depth of 3,000 metres at a max speed of 4 knots. SPICE features a main propulsion propeller, two side thrusters and two vertical thrusters. It uses an inertial navigation system and sonar for its navigation equipment, as well as ballast release equipment and an iridium beacon for safety.
A 2020 verification test reportedly achieved stable pipe-tracking performance, demonstrating high capability as a platform for close-range subsea pipeline inspections. This was conducted under the "Joint Technological Development Support Program for Offshore Oil and Natural Gas Fields" of DeepStar, and The Nippon Foundation Ocean Innovation Consortium.
Afterwards, Kawasaki began a joint research project with TotalEnergies to integrate the energy company's electrical potential measurement technology Light Touch Cathodic Protection (LTCP) with SPICE. This was anticipated to make the AUV capable of measuring the electrical potential gradient of a pipeline allowing the detection of potential coating defects.
After more detailed design and modifications of SPICE in order to incorporate TotalEnergies' LTCP, between October 2020 and February 2021, the most recent verification test off Awaji Island (Japan) ran from Aug. 30, 2022 to Sept. 2, 2022, and according to the company, resulted in the successful measurement by LTCP integrated with SPICE of the electrical potential of subsea pipelines. For the offshore test, simulated pipes and a corrosion protection system were placed on the seabed under the supervision of TotalEnergies. Using the time-tested, pipe-tracking capability and precise autonomous control of the robot arm, SPICE then successfully performed measurements of electrical potential using the robot arm with its newly integrated measurement device to check the pipelines' state of protection against corrosion inferred by the measurement of the
electrical potential.