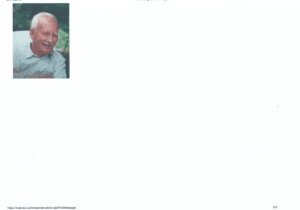 So many times we have heard the expression  – 'He was a Gentleman and a Scholar' –  and that was exactly what Gordon Currer was.
A kindly man, very mild mannered and thorough to the extreme in his duties as a dedicated technologist.  Always keen to pass on knowledge and learning (with patience) to those students that had an aptitude to learn the mysterious art of Cathodic Protection.
Gordon was a Chartered Engineer and held membership in the Institute of Electrical Engineers; the Institute of Corrosion and Technology as well as the National Association of Corrosion Engineers.
He wrote many papers and gave countless lectures and presentations; both throughout the UK and the rest of the world.  With a career spanning over fifty years he once listed all the countries he had visited purely for business purposes – the tally was an impressive thirty seven.
Like many in the enigmatic world of Cathodic Protection he entered that world by accident. In his own words he said, "When I look back over my working life I contrast the relatively dreary (and certainly un-exciting) beginnings of travel by bus and underground into London each day with the subsequent worldwide travel I have experienced with my duties in Cathodic Protection – and generally enjoyed".
It was thanks to an advertisement in the Hertfordshire Mercury in February 1956 that Gordon was offered his first post by John Gerrard – himself a former employee of the Kuwait Oil Company.  From little acorns the Company of MAPEL expanded from Woolmer Green to Tottenham with John Gerrard the then Managing Director and Gordon's retirement finally being from the Stotfold office.
During his pioneering days with MAPEL a lot of the CP testing techniques (that are practised today) were trialled and refined by him and his colleagues of that time.  It was refreshing to hear some of his humorous memories, which revealed that he too, in all his reverence, went through quite difficult practical learning curves as they built up procedures and routines that now form part of the CP standards of today.  His favourite was the colleague that never stopped talking but suddenly went quiet on a Current Drainage survey with which they were experimenting with using a heavy duty welding generator. The verbiage apparently restored itself in earnest when the gentleman was released from the test circuit!
He recalled his first overseas trip was to Nigeria in 1958 and encompassed travel to Benin, Ghana and the Ivory Coast.  Apart from a short spell in a tiger moth with the Air Cadets he had never flown before. He and a colleague left Heathrow in a West African Airways 'Argonaut Airliner' having 4 piston engines and propellers giving a cruising speed of 265mph.  The passage through Lagos Airport was fast, pleasant and informal as still under British rule, in contrast to difficulties he experienced with entry and exit in the 1990's – not helped by his passport being stolen.
Having worked many years with MAPEL and as a senior team member he played a great part in building the Company up to become one of the most respected in the NDT/CP industry. An extremely loyal team of stalwarts was the result of his leadership.  There were no bosses unless the chips were down and a serious problem needed attendance.  Gordon would then deal with the issue with clarity and a quiet firmness respected and appreciated by all.
As a memory and in a lighter vein, the following portrays the deep effect he had on all those within his team. For example, once design values were known it was a case of anode distribution.  In truth there were many positions and all would work but some gave better spread than others.  Gordon was a stickler for change until it was deemed to be perfect.  Nowadays when layout changes to a new design are made, those who worked with him use the familiar quote "You are doing a Gordon on me".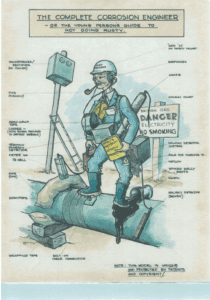 With the close co-operation MAPEL had built up with British Gas by mutual agreement Gordon moved across, with some selected engineers, to the Gas Council offices in Hinckley. They helped form the corrosion division responsible for the production and implementation of Cathodic Protection systems for all the major high pressure gas feeder mains throughout the UK.  Gordon stayed with British Gas for over 13 years before returning to MAPEL as their Chief Engineering Manager. Even now, crews working in the East Midlands have reported back that they are referring to drawings, drawn from the archives signed by GWC.
By reviewing the caricature (opposite) – presented to him upon his departure from British Gas containing one hundred well wisher signatures, it is abundantly clear in itself what a popular and respected person Gordon was.
His true values and courage came to the fore at MAPEL when let down by two senior engineers he took on recovering a very serious project on the Kori Nuclear Power station in South Korea. He worked in the most arduous conditions without complaint; completing the venture for GEC spanning 1978/79.  His love of art kept him sane and diverted his mind off home as he worked many hours in the stinking depths of the cooling water pump-house, wearing thigh boots whilst knee deep in dead mussels.  His sketch dated 4.12.78  (below) being the evidence of a man devoted to a duty that very few would have endured.
In 1987/88 his time was focussed on a feasibility study for Mobil Oil based around the Yanbu Oil Refinery on the Red Sea coast of Saudi Arabia.
In 1990 he developed a design for the Adnoc Oil Refinery in Abu Dhabi and then in 1993 as a retained consultant for MAPEL he travelled a circuitous route into Libya to work on the Great Man Made River project for Brown and Root and the Turkish company STFA.
These are just snippets of the countless large projects he was involved with over the years.
On retirement he still maintained the interest and took on some private consultancy work representing the writer on project work in Trinidad and Barbados.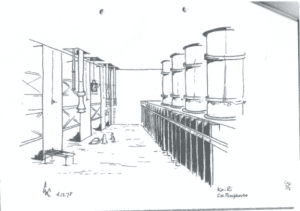 Both him and his wife Sheila enjoyed many happy days with Andre Lange and his family at Marine Consultants, based in Port of Spain, Trinidad.  This, he always said was the icing on the cake finishing his years of travel in Libya/Saudi Arabia/Abu Dhabi etc etc and the memories remain on the sideboard at his home in Frisby –on-the-Wreake enjoyed by his devoted wife Sheila, two daughters Jill and Deborah and their son Tim.
Rest in Peace Gordon……an Icon of your era.
On behalf of the CURRER FAMILY