The final evening event of 2017 was held on Tuesday the 30th May, with 50 attendees representing a wide range of sponsors and also many visiting guests.  The Branch was once again honoured to have the presence of ICorr President Sarah Vasey, who provided a welcome update on HQ Plans and thanked the Branch Committee for all its efforts over a very successful 2016-2017 Session.
A technical paper entitled "A Review of State of the Art in Corrosion under Insulation Testing (CUI)" was presented by Simon Daly, Group Oil & Gas Segment Manager of Hempel A/S, who explained the company's long involvement with CUI R&D, via its association with the Danish Technical University in Copenhagen.
Billions of dollars are spent worldwide due to CUI issues, and as there are many operating variables, failure risks and repair costs associated with undetected CUI, any attempt to lessons these can only be to the Industry's advantage.
Frequently the weak areas are field joints with field repairs of piping and coating systems difficult to equal in quality to the factory coating systems that are applied under controlled conditions. Similarly external cladding may not be of consistent quality in terms of weather proofing and sealing abilities.
It is not often realized that coatings hidden under insulation must have multiple and simultaneous performance properties and must be resistant in service to, immersion conditions (saturated insulation), thermal cycling (equipment in intermittent use) and varying levels of surface preparation.
Commonly used test methods were reviewed by Simon, along with the benefits and drawbacks of each system. In addition, suggestions were offered for a pre-qualification system which not only takes into account the CUI test itself but also test methods to qualify some of the considerations shown above, as well as likely inclusions in the new ISO standard 19277 'Petroleum, petrochemical and natural gas industries – Qualification testing and acceptance criteria for protective coating systems under insulation', currently under development for CUI protection.
There were many questions from the very attentive audience on a wide range of topics, including future ISO tests on coatings for CRA's, blasting methods, maintenance painting, life cycle / life extension considerations and use of TSA coatings.
The well supported evening closed with a handover of the Chair to Dr. Yunnan Gao, this year's Events Co-ordinator, by the current Chair Stephen Tate.
The Branch has one more event before the new session starts, the Annual Corrosion Awareness Day on 29 August at the usual venue, the Palm Court Hotel, which this year is kindly sponsored by Sherwin-Williams.
This course is aimed at graduate engineers, non-corrosion engineers and others working closely with corrosion, (e.g. integrity engineers, inspection engineers, etc.). The full-day course, will comprise a number of lectures covering different aspects of corrosion, providing basic information on corrosion principles and mechanisms of corrosion control, including,
Introduction to Corrosion and it's costs, plus corrosion mechanisms and everyday examples, Professor Paul Lambert (Mott MacDonald)
Mitigation by coatings and materials selection, and corrosion mitigation by chemicals, Malcolm Morris (Sherwin Williams)
Corrosion mitigation by cathodic protection (sacrificial and impressed current), Nigel Owen (Aberdeen Foundries)
Corrosion monitoring and microbiology – analysis and  data trending, Dr Carol Devine, North East Corrosion Engineers Ltd
Corrosion management overview and risk based inspection, Hooman Takhtechian (Oceaneering)
Corrosion rate modelling, Dr Muhammad Ejaz, Plant Integrity Management Ltd.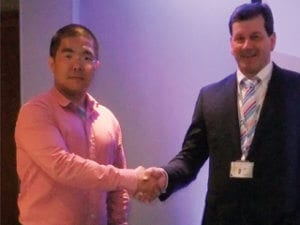 The objective of this course is to improve understanding of corrosion processes and to raise awareness of corrosion management.  The course is hosted by ICorr Aberdeen through kind assistance of its local / national sponsors. As spaces are strictly limited, they will be allocated on a first-come first-served basis.  For registration or further information please contact admin@icorr.org
For information about all forthcoming Aberdeen branch activities, please contact the new session chair, Dr Yunnan Gao, ICorrABZ@gmail.com. A calendar of local events of interest to corrosion professionals in the Aberdeen area, and the opportunity to sign up to the branch mailing list, is available at https://sites.google.com/site/icorrabz/home
Aberdeen Branch have also established a new Media Centre, which can be found at ICorrABZ@gmail.com